There's Always a Way to Feel Inadequate Online aka The Small Willy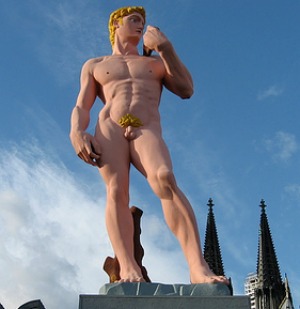 The number of you stumbling upon this blog is steadily rising. It's made me feel a bit like I imagine a man with a very small willy might feel if he woke up because his formerly tiny willy is now poking him in the eye. Startling, frightening, but also a source of inestimable pride.
But then I looked further into my blog analytics to discover that in, other ways, I seem to be deflating.
Like the man with the formerly small willy who now has a large willy, but it's incapable of an erection! (I think it's safe to say I'm all about penis metaphors today, which must mean I'm bored with my inadequate analytics and my online life.)
To confess. People are bouncing off of my site at a higher rate. Some people arrive and leave again in just over two minutes. Apparently some of my new readers have stumbled upon me by accident as I've discovered my biggest demographic is men between the ages of 25 and 35. This leads me to believe they come for the nude photos only to discover the nudes are about a rather serious subject (body dysmorphic disorder) so perhaps not as much pleasure can be derived from the nudes as if they were just simply unencumbered tits and ass?
Also, people aren't commenting enough on my blog. (You know who you are! And I know where you live!) This, apparently, is a sign of the dreaded LC- Lacking Community. Now I feel so comment inferior that I'm looking into comment-augmentation surgery.
Apparently people want to read my stuff then get on with their lives and not bounce around reading more of my stuff. I'm not sure why that is? Shouldn't I be so riveting that readers have no time to make love to their spouses or feed their children? Shouldn't they be hunched and gnarled over their computers awaiting the details of my life? Which is mostly online? Am I not The Matrix??
Sigh. This is almost as bad as when they invented the answering machine back in the stone age when I dated that guy who never called me, like, ever. I would never have felt rejected and inadequate if it weren't for that damn machine!
Anyway, I think you should comment below in order to save me from ending it all due to my lack of readership in Malaysia. The bastards there expect me to write in indigenous Malay!
(Author's note: Facebook is now charging money for each post I place on my Fan Page. If you love this site — or hate it for that matter — sign up HERE for my weekly newsletter in order not to miss a thing!
---
---