Yes My Pants Won't Button, But I Was Nominated For The Versatile Blogger Award!
Okay, I may be chubby, but someone reads my blog! That's very encouraging. Listen all you silent readers, you should know I'm an insecure writer always searching for validation and praise and the occasional obsequious comment! So I was heartened when compatriot Old Dog New Tits nominated me for the Versatile Blogger Award. ODNT, when can I expect the stretch limo equipped with a young Prosecco, a jazz quartet and a mini-jacuuzi for Henri et moi?
But, before we're whisked away to the crumbling ruins of Pompei and a cove on the island of Capri where we will be magically transformed into that stunning couple in all the Aqua Velvet ads, I want to fulfill the requirements for this nomination:
1. NOMINATE 15 FELLOW BLOGGERS
If you don't know these fascinating, irreverent trailblazers you should! They will tell you how to fix your woeful sex life while tippling Kettle One, reading Sarte, decoding NASA's Html, becoming less of an unfulfilled dilettante and more of an enlightened yogi Kama Sutra master. That's just the tip of what these folks have to offer. (And no, that's not what I meant by "tip." Get your minds out of the gutter!)
MARRIED MAN SEX LIFE
THE FLYING CHALUPA
THE BADGER HUT
ANN'S RANTS
I AM NOT THE BABYSITTER
BETWEEN PARENTS
GOOD DAY REGULAR PEOPLE
JOHANNA SAWALHA/DESIGN YOUR WHOLE LIFE
THE SASSY CURMUDGEON
THE BOOK MAMA
MOMS LA
YVONNEINLA
FUSSY
TECH. FOOD. LIFE.
VODKAMOM
2. INFORM THE BLOGGERS OF THEIR NOMINATION
Oh, I will be informing them. Right before Christmas…Get to work, you bastards! MWAHAHAHAHAHA!
3. SHARE 7 RANDOM THINGS ABOUT MYSELF
In a 1996 journal entry I wrote that I thought Henry was going to be my husband. That was two years before we had our first date.
I camped overnight in a 1959 Cadillac Hearse with Brandon Lee (son of Bruce Lee).
I wrote a Dear John letter to David Schwimmer before he starred in Friends. Guess who's laughing now??
During puberty the most popular boy in school told me my hair looked like pubic hair. Now he's homeless in Hawaii.
I danced for INXS at the 1990 VMAs, but my Suicide Blonde wig started slipping off so I was never on-camera (or I'm just making this up!)
I lived on a 70-foot sailboat docked in Antioch, California for six months when I was 9. The harbor master was shot by his wife for having an affair with the wife of my third stepdad. Ahh, the '70s.
I pet (or is it petted?) a leopard on a wildlife preserve in South Africa. I was terrified when the leopard emitted a deep, loud "RRRRRRR! RRRRRR! RRRRRR!" I turned to the wildlife preserve guy. "Is she growling?" I asked. "No," he said, "She's purring."
4. THANK THE BLOGGER WHO NOMINATED YOU
My dearest Old Dog New Tits – you've been through a lot lately and you've handled it with great humor and equanimity. If the ship were going down, you'd be bailing water. You are a true lady and I so appreciate the fact that you think enough of my work as a blogger to nominate me for this award. I look forward to reading you in the future and hopefully meeting you in person someday. xoxox
5. ADD THE VERSATILE BLOGGER AWARD LOGO ON YOUR BLOG POST: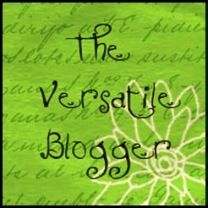 ---
---